SpaceX's prototype rocket for a planned Starship vehicle has flown untethered for the first time.
Called Starhopper, the rocket made its first free-flying test hop at SpaceX's Boca Chica proving ground in South Texas late Thursday (July 25), one day after a glitch forced it to abort an earlier attempt. Starhopper ignited its single Raptor engine just before midnight, apparently firing long enough to meet the test's main objective, which SpaceX founder and CEO Elon Musk had said would be a straight hop 65 feet (20 meters) up and down.
"Starhopper test flight successful," Musk wrote on Twitter after the test. "Water towers *can* fly haha!!" (Starhopper is a large, squat cylinder on three legs wrapped in stainless steel, giving it a "water tower" look.)
Musk also released stunning close-up video of the test hop and the Raptor engine on Twitter early Friday.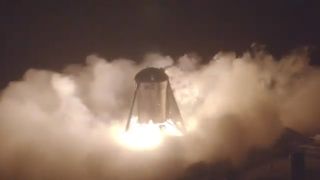 Starhopper is a testbed vehicle designed to test out vital technologies for SpaceX's planned Starship and Super Heavy spacecraft, a planned fully reusable launch system capable of launching more payload than NASA's mighty Saturn V moon rocket. Starship is designed to carry up to 100 people at a time, and will be SpaceX's go-to spacecraft for eventual trips to the moon and Mars, Musk has said. It could even be used for point-to-point travel around Earth, he's added.
During Thursday night's test, Starhopper briefly lit up its Boca Chica proving ground, only to be quickly obscured by its exhaust plume as it rose up and landed within a minute. A video of the hop was streamed live on the Everyday Astronaut YouTube channel. Flames from the test hop ignited a fire near Starhopper that continued to burn well after the test itself, according to the video.
The test hop Thursday night followed an aborted attempt on Wednesday (July 24) when Starhopper fired its liquid methane/liquid oxygen fueled Raptor engine for just 3 seconds before shutting down.
Musk has said that the abort was caused by high chamber pressure on Starhopper, apparently due to "colder than expected propellant." An even earlier untethered hop attempt last week ended not with a liftoff, but with a brilliant fireball that did not cause lasting damage to Starhopper, Musk said.
"Yeah, big advantage of being made of high strength stainless steel: not bothered by a little heat!" he wrote on Twitter.
Starhopper made two tethered test hops in early April. SpaceX has also test-fired the rocket's main Raptor engine on the ground successfully.
Shortly after Thursday night's test hop, Musk said Starhopper will aim even higher in an upcoming test.
"200 [meter] hop in a week or two," Musk wrote on Twitter.
Musk has also said in recent days that he will give an update on the Starship launch system's design. In a series of tweets, he pledged to give an update on the Starship program after Starhopper's first untethered hop.
Thursday's untethered hop came about six hours after SpaceX launched its 18th robotic cargo mission to the International Space Station for NASA. A Falcon 9 rocket lofted a twice-flown Dragon capsule toward the orbiting lab, marking the first time that a Dragon has launched three times.
The Falcon 9's first stage was used as well, with one flight already under its belt.
Editor's note: SpaceX's Starhopper test hop on July 25, 2019 begins at the 1-hour, 15-minute mark of the Everyday Astronaut video above.